---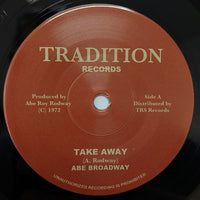 Prepare to be captivated by the soul-stirring melodies of Abe Broadway's timeless masterpiece "Take Away." Despite his brief career and recording less than a handful of songs, each one serves as a testament to his talent. Notably, he self-produced all of his works with unwavering dedication, leaving an unforgettable impact that continues to resonate.
"Take Away" was originally recorded in late 1972, and the composition showcases the musical brilliance of the early The Upsetters band (before disbanding and forming other groups). It includes the talented organist Glen Adams, brothers Aston Barrett on bass and the unmistakable Carlton Barrett on drums, the soulful trombone melodies of Vin Gordon, and the skilled guitar work of Alva Lewis. Unfortunately, "Take Away" suffered from bootlegging a few years ago. However, we are delighted to bring you the long-awaited legitimate reissue of this remarkable song.
"Take Away" continues to shine as an absolute gem that withstands the test of time and tugs at your heart. And with this highly anticipated reissue, its brilliance can be savored anew.