---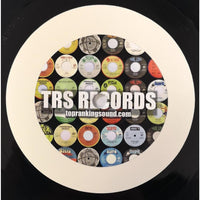 Sale
The gentle giant Prince Alla needs little introduction. This iconic Jamaican Roots reggae singer's career began in the 1960s and still continues into 2018.
"Mek She Gwan" is one of the Prince's lesser known late 80's recordings (however as with most cases known to a handful of serious vinyl collectors). It was recorded and arranged back in 1989 and released on the short lived and experimental West Bank Music imprint out of Seaview, Gardens, a musical community in West Kingston known for the reggae superstars who grew up there. West Bank Music was launched by Prince Alla and colleague Leonard Crawford however the label soon dissolved after the passing of Crawford shortly after.
TRS is very happy to finally see this tune get its just desserts and expose more ears to this particular late 80s era of his music. Prince Alla continues to record to this day and performs globally and adorned by the Roots Reggae community.